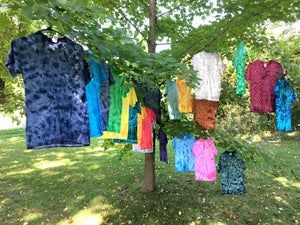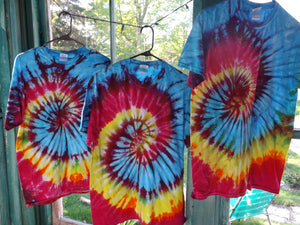 The New Dye Tradition
Since 1987, we've been handcrafting tie-dye t-shirts, hoodies, tapestries, onesies and more. We also specialize in dyeing vintage housewares like bedding, tablecloths, napkins and other linens.
New Dye uses fiber-reactive dyes on all-natural fabrics. Garments are processed in both a hot and cold wash, then completed in a commercial dryer.
Each design is unique, inspiring and colorfast for life!
See the latest creations...
There's Always More!
The online version of our store opened on November 27, 2020 and we've been adding new products here ever since. If you don't see exactly what you're looking for, please ask about what else we have in stock: store@newdye.com or 1-802-796-4964.
Visit the Shop
263 South Main St.
Alburgh, VT 05440
Open Monday-Saturday
10 a.m. - 4 p.m.
Sundays by appointment.
Please call ahead!
1-802-796-4694
store@newdye.com